About us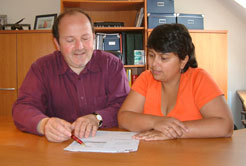 Pencraig Developments Limited is a family owned and run business established in 1993 by Jeremy and Katina Goodwin. Over the last 26 years we have built up a portfolio of quality student accommodation in Plymouth. We are very selective in the student houses & flats that we buy; all are in Mutley, which is the area of Plymouth close to the University most favoured by students.
We are professional full-time landlords of quality student accommodation in Plymouth. All of the student houses & flats that we rent belong to us; we are not a residential letting agent or property management company, so if you rent student accommodation from us you know that you are dealing directly with the landlord.
We are members of the National Landlords Association (NLA) and we subscribe to their Code of Practice. For more information visit the NLA website.
Jeremy has 30+ years of experience in property; for more than 25 years he was a member of the Royal Town Planning Institute (RTPI) and from 2005 until 2017 he was a member of the management committee (a Director) of Bristowe Fair Rent Housing Association.
He is also an accredited landlord under the Private Rented Sector Accreditation Scheme (PRSAS). We always comply with the scheme's code of conduct.
Our tenants can contact us 24/7 by telephone, text or email. We live in Plymouth (within a mile of our properties), so we are able to attend promptly in the event our tenants need us; we provide our tenants with outstanding service, dealing promptly with maintenance issues and providing rapid response in the event of any difficulties that our tenants might experience, for instance letting them in when they have forgotten their keys, changing light bulbs or investigating the loss of internet broadband service in our student houses & flats.
We are full-time professional landlords and not buy-to-let amateurs. This means that we do not manage our houses in our spare time but we manage them properly full-time. All day, every day. Because we are a limited company you can check our accounts at Companies House and see for yourself that we are financially sound, so you can be sure that your student property will not be repossessed during your tenancy. If you rent from an amateur landlord who owns just one or two student properties and who relies on another job for their main source of income, if he/she loses their job, which mortgage do you think they will pay with your rent money? Your student property or his or her own family home? If you aren't too worried about having to move part way through the year in the middle of your studies, then rent from any landlord. But if you want to be sure that your student property isn't going to be repossessed by the bank, make sure that you rent from a financially sound professional landlord like us.